Excellent
Food
Our wide range of menus mean we have something for everyone at prices you'll love.
Wide Range of Beers & Wine
No matter what your taste we have you covered. Craft Beers, Wines and Soft Drinks.
Friendly
Staff
We take pride in delivering the best service to our customers. Call in and say hello.
Great
Location
Only minutes from Kilkenny City Centre, we are ideally located with lots of parking.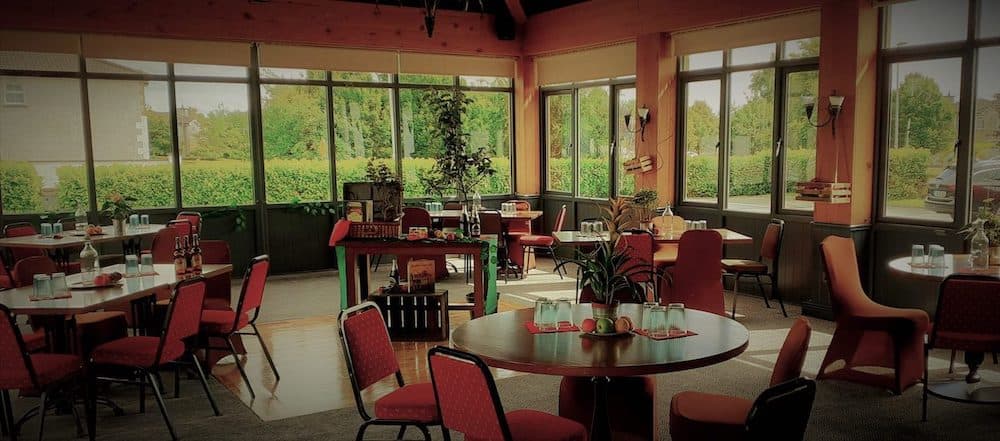 Welcome to the Orchard House, Kilkenny
For the latest updates please visit our Facebook Page
The Orchard House is one of Kilkenny's most quintessential modern Bar and Restaurants.
Having recently undergone renovations with a new beer garden seating area and the introduction of the exquisite Bramley Restaurant, The Orchard House should be your first choice when choosing a venue for your get-together or family celebration.
Situated only 5 minutes drive from Kilkenny's City center with plenty of free parking, The Orchard House is a perfect choice for your Breakfast, Lunch, or Dinner. You can also book your table by calling us on 056 7712636.
Opened in November 2009, The Orchard Bar and Restaurant has gone from strength to strength and quickly established itself as one of the best eateries and social venues in Kilkenny.
At the weekend, we have live music and entertainment with many of the function rooms catering for parties & gatherings.
With a fully equipped Sports Bar, watch the big game on one of our big screens or if you want to hide away in our Snug Bar you can enjoy some quiet time in a nostalgic setting. Our Main Bar is perfect for small and large groups and can also be booked in advance.
---
Delicious Top Class Lunch!! Beautiful lunch today!! Heard great reports of Orchard pub. Absolute divine!! We ordered the Lamb lunch!! Loads of lamb on stuffing. Gravy so tasty. Fabulous vedge coated in garlic butter I think! Soo tasty. Fabulous mash and chunky chips!! So good like 5 star fine dining!! So easy for parking! Beautiful bar. Smashing place. A real gem for Kilkenny city! Lovely Management and Staff!! Looking forward to our next visit!! Hats off to The Orchard Pub!!

Almostgreynomad
2021-08-30
Highly recommend ! What a glorious setting. Around the back is a lovely outdoor area, tables and pods for small groups. Plants and lighting make it really magical. Pods have small heaters & knee blankets. Inside the main building, there is an atmospheric snug, which apparently can be booked for private groups - would probably seat ? max 10 - 15 ? Friend and I were there on a Monday night - so really quiet - packed on the weekend apparently (strongly suggest booking for weekend). We enjoyed dinner and drinks in a lovely setting. Lots of parking - too busy chatting to discover if they had wifi ! I'll be back !!!

5 stars all around Had a fantastic dinner tonight. All our choices were well presented, were plentiful and most importantly were delicious. We were greeted by friendly staff who ensured we were well attended to the whole evening. Would definitely recommend to anyone looking for great food at affordable prices.

Delicious We have eaten here on a number of occasions and no matter whether it was lunch or dinner the food was always excellent. The staff are very friendly and efficient. The outdoor area is beautifully decorated and relaxing. I would definitely recommend it.

Takeaway Love the Orchard House takeaways, they are such a treat. Tasty food, very generous portions, friendly service. A special thanks for complimentary cupcakes included in our order today, a really nice touch 💞

Sharing a meal The food here never lets you down be it just a meal with a friend, partner, or in a large group, the service is always good, friendly, and helpful. Which is why I have recommended it and taken my friends there.